Wilderness has its detractors and its defenders. Mark and I have both had, let's call it disappointing, experienced with the Montana Wilderness Association. That's all over now, water under the bridge. The Montana Wilderness Association do longer exists, it's been renamed: "Wild Montana." https://wildmontana.org/
It's a relief in many ways to see this unveiling of the true nature of this NGO (non-governmental organization). Most of the founding members have passed on. The new membership and leadership is made of folks who cherish wilderness in a post-card kind of way; something resembling a still image on the side of a refrigerator. Concrete, static, "beautiful," but loved for its groomed trails and conversational value at the wine and cheese gatherings in urban settings — part of an identity, but quite separate and apart from the domesticated, sophisticated, plastic-fantastic day-to-day lives of most "Wild Montana" subscribers.
Ironically, as MWA sheds its "wilderness skin," Subaru is embracing its new, rugged, re-branded image. Meet the "Wilderness" in the comfort of a 2022 model all-wheel vehicle.
Montana Wild, like it's former self ( MWA) is a wing of the Montana Democratic Party and a hiking club, nothing more. Even its commitment to hiking takes a backseat to trail commerce. There's money to be made with all the new machines ripping up and down forest trails lately. Government subsidies are beginning to flood into the mechanized trail-use industry's playground. Sorry hikers, it's all about "new markets."
For example, the Flathead Area Mountain Bikers (FAMB) are busy making hiking trails into mountain-bike speedways, with a little help from the US Forest Service, who is outsourcing (privatizing) almost everything in sight. Here's an excerpt from FAMB's newsletter. Can't wait for the mountain bike races, can you? Who needs nature, wildlife and quiet when there's a machine that needs riding?
FAMB Awarded $25,000 for Flathead National Forest Trail Maintenance Work
On May 18, FAMB inked two agreements with the U.S. Forest Service providing a combined $25,000 for FAMB trail maintenance work on the Flathead National Forest over the next five years, with additional funding likely during this time. It's all thanks to the Great American Outdoors Act, which prioritizes addressing the deferred maintenance backlog on National Forest trails. This opportunity makes it possible for us to prioritize the trails mountain bikers care about the most, although it's important to note that our Flathead Trail Crew's work benefits all trail user groups.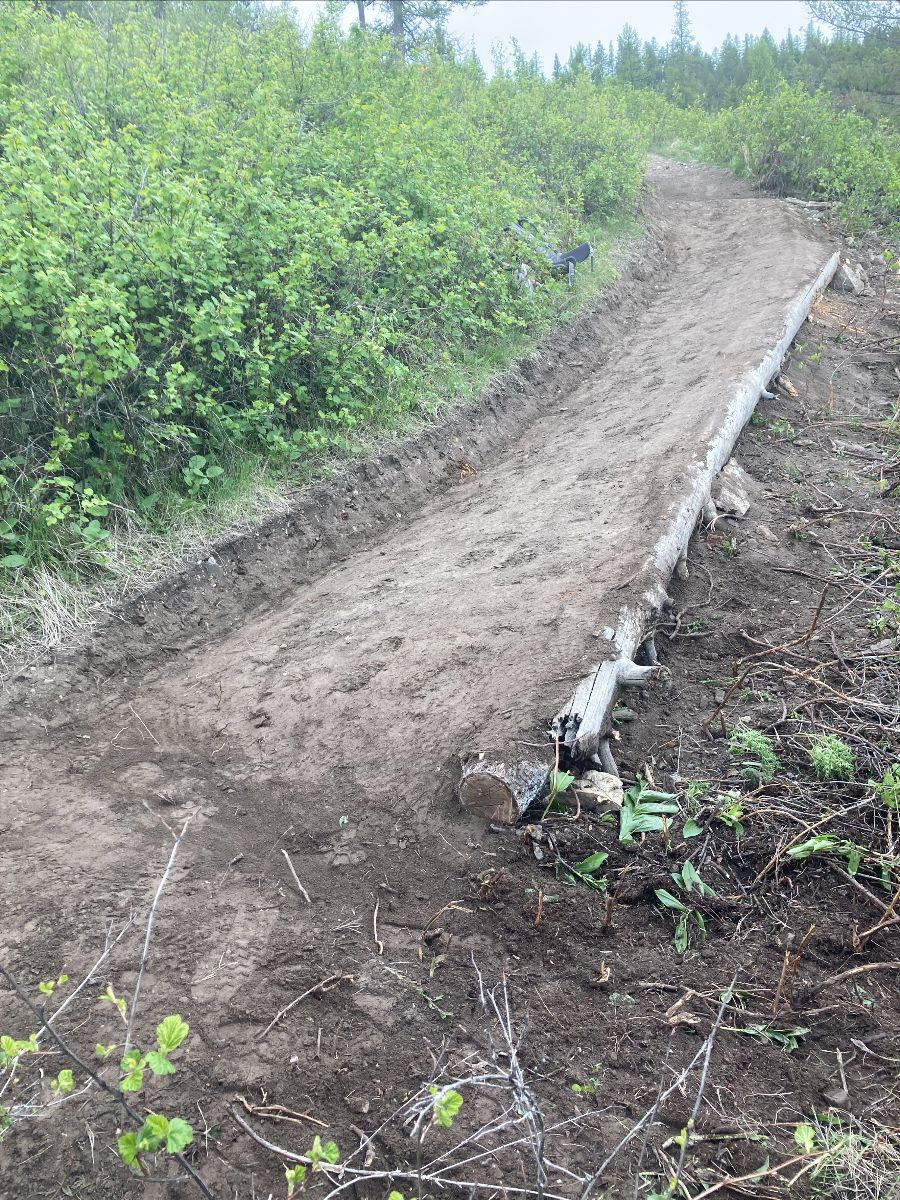 This Spring, our Flathead Trail Crew has worked on the Reservoir Trail (Whitefish Trail), Notch Trail (Herron Park), and they're wrapping up a two week hitch on Reid Divide and Boney Gulch on Tally Lake Ranger District this week. We'll keep you in the loop throughout the season, but here are the crew's stats as of the end of last week:

Miles of Trail Maintained: 13.05
Trees Cleared from Obstructing Trail: 88
Cutbacks Made: 57
Dead/Overhanging Trees Felled: 37
Miles of Trail Brush Cut: 0
Miles of Drainage Maintained: 11.55
Feet of Tread Repair: 770
Estimated Labor Hours: 167.7

They head to the Swans next week. You can help our crew by submitting a trail scouting report for your favorite trails down in the Swans – how far to snow line, where on the trail is there blowdown, etc.
That's not all that's new on the National Forest commerce scene. "Prescribed fire" has graduated from a cottage industry to a full-blown, government sanctioned sport with its own grants and subsidies revenue stream. "Controlled burns" are money-makers for local political favorites. The National Prescribed Fire Act of 2021, if passed, would appropriate $300 million each to the Departments of the Interior (DOI) and Agriculture (DOA) to increase the pace and scale of controlled burns on state, county, and federally managed lands.
"The legislation:
Establishes a $10 million collaborative program, based on the successful Collaborative Forest Landscape Restoration Program, to implement controlled burns on county, state and private land at high risk of burning in a wildfire.
Establishes an incentive program to provide funding to state, county, and federal agencies for any large-scale controlled burn. States and counties could receive up to $100,000 for prescribed fire projects.
Establishes a workforce development program at the Forest Service and DOI to develop, train, and hire prescribed fire practitioners, and establishes employment programs for Tribes, veterans, women, and those formerly incarcerated."
https://wildfiretoday.com/2021/05/21/legislation-reintroduced-to-boost-prescribed-fire-activities/
The 4th Industrial Revolution, the merging of man and machine, and more fire on the landscape, is upon us. As NGOs and auto dealers swap images trying to capture larger and larger market share, the rest of us need to step back and reassess. How did we get into this mess? Is there a way out, or around, the mass (zombified) movement away from nature, sprinting toward an existence for which there may be no return. Discernment is critical. Observe closely. Think long and hard before making your next move(s).