A short intermezzo from the peculiar plots, as I just saw this:
A large fire broke out at the Paço de São Cristóvão, which houses the 200-year-old National Museum of Brazil, in Rio de Janeiro, on September 2, 2018, at around 19:30 local time (22:30 UTC September 2). Reaction to the cultural loss was swift, as the museum held over 20 million items — Brazil's president Michel Temer called the loss of the historical and cultural heritage "incalculable". The cause of the fire has yet to be determined.
A large fire breaking out last night in Rio de Janeiro, hmm, let's look at this story…
Shortly after closing on September 2, 2018, a large fire broke out, reaching all three floors of the National Museum building. Firefighters were called at 19:30 local time, arriving quickly at the scene. Despite this, the fire chief reported that the two fire hydrants closest to the museum had no water.
The museum closes at 17:00 (see Google, or the site of the museum). The staff is packing up and leaving, so by 17:30-18:00 it should have started? By the way, the intro says it started at 19:30, later it says the fire department was called at that time. No water, seriously?
There is a lake inside the park (with a statue of Apollo), at just 150 m from the museum entrance…
A spokesman for the fire department told media that the fire crews went inside the burning building, despite there being no people inside, in order to rescue artefacts. Being aided by museum staff, they "were able to remove a lot of things from inside".
So this museum holding 20,000,000 unique pieces of history, archeology, paleontology and other areas, had no guards? Nobody is watching a building that valuable at night?
Any middle-class apartment building in Rio has a guard on duty, day and night, larger buildings more. But they want us to believe this museum in the center of Rio, in a park just next to the famous Maracanã stadium, the railway and 2 hospitals, had nobody inside? No guard, no fire alarms, no sprinkler system, nothing?
Oh wait…
The four security guards who were on duty at the museum managed to escape; there have been no reports of casualties.
Granted, it's a huge building, but 4 security guards, with a camera control room and they just escape? What about sprinklers? Are those people not trained to handle a starting fire while calling the firefighters?
A small fire broke out on an empty lot next to my apartment building here, at 9:30 AM last March. Dry season, many dry leaves and a cigarette or piece of glass could easily have sparked it. I took photos of it and checked the data; within 4 minutes there was a fire truck, with water, to extinguish the fire, done in 8 minutes.
But they want us to believe a fire can just rage on for 1.5-2 hours (and/or getting out of control in 1.5 -or 3- hours) in probably the most prestigious cultural building in a country of 200+ million people? No, but seriously?
The fire was out of control by 21:00 (00:00 UTC September 3), with great flames and occasional explosions, being fought by firefighters from four sectors. Dozens of people went to Quinta da Boa Vista to see the fire. A specialized team of firefighters entered the building at 21:15 to try to block areas still not hit by the flames, and to evaluate the extent of the damage. However, by 21:30, the whole building had been engulfed by the fire, including exhibitions that were in the two areas at the front of the main building.

Firefighters of three sectors were fighting the fire by 21:45 [2+ hours after the call?]. Two fire engines with turntable ladders were being used, with two water trucks taking turns to supply water.

A portion of the museum's collection is housed elsewhere and has not been affected.
Hmm, how big was that portion?
Kátia Bogéa, said that "[i]t's a national and worldwide tragedy. Everybody can see that this is not a loss for the Brazilian people, but for the whole humanity" and commented that it was "a predictable tragedy, because we've known for a long that Brazilian cultural heritage has no budget".
I guess those budget problems are over now…?
I am not claiming the fire was fake, but the story looks ridiculous…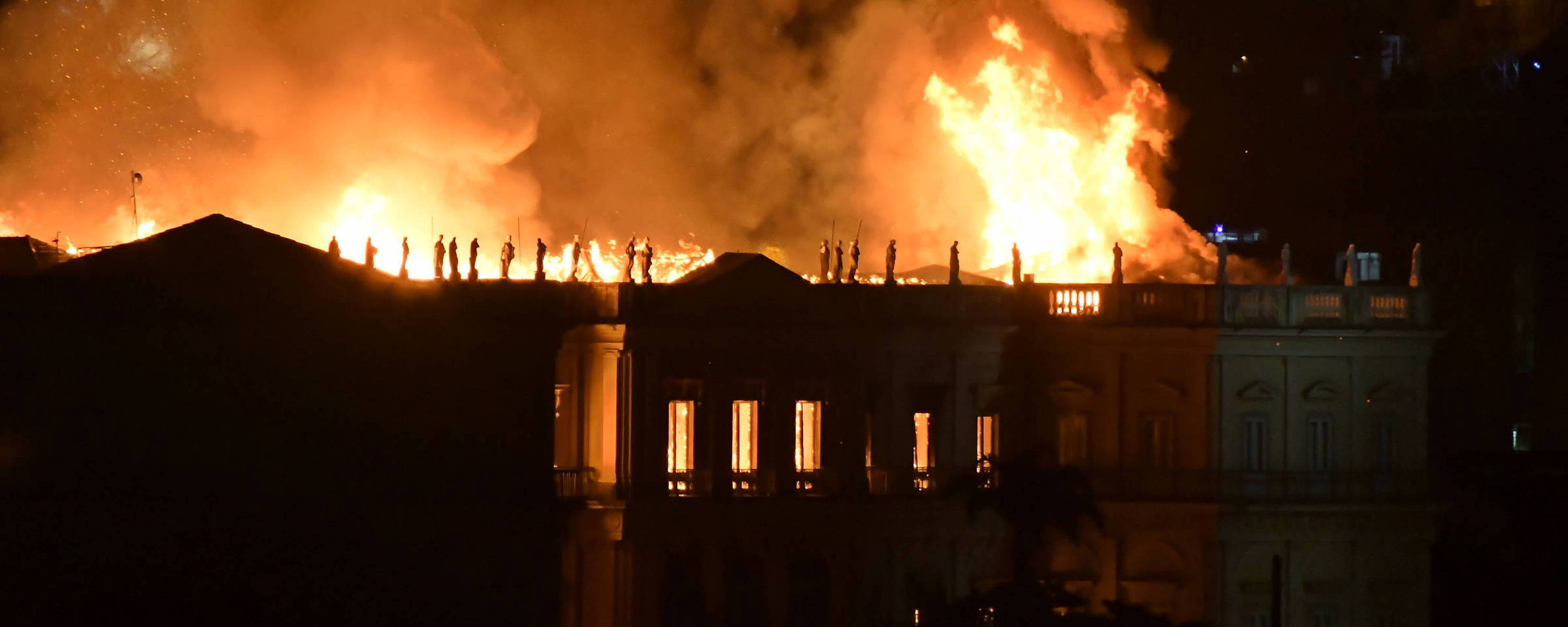 More photos here.
Note that the façade of the building is a pristine off-white, wouldn't we expect to see at least some soot or burn marks on the outside (and inside walls)?